Outdoor LED Lighting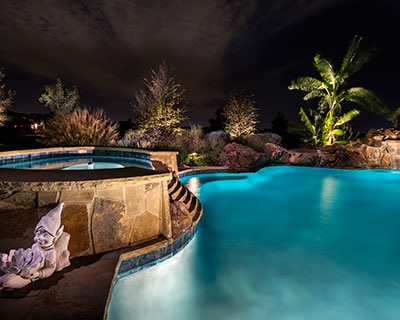 Landscaping is something that many properties have and people like to ensure that their gardens and yards are well designed and maintained at all times. They opt for special features and installations, to ensure that their property has a unique look. Yards and gardens add a very open and alive look to your property, but you also want to be able to use them optimally at all times. In most instances these areas are used in the evening when the light conditions might not be too good.
This is why you install outdoor lighting on your property. However most property owners are also concerned about the expense of maintaining these lighting installations, as well as the high power bills these represent. However, there is a simple way to overcome this hurdle; you should opt for energy-efficient lighting.
These lights help you keep a control on your energy bills, without having to compromise on the lighting aspect in any way. Lunar FX Lighting provides excellent landscape lighting services to customers across Dallas, Richardson, Plano, Allen, Prosper and Lewisville, as well as Murphy, Southlake, Colleyville and Fort Worth.
Why Choose Light Emitting Diodes?
Most people are aware that the upfront cost of these LED bulbs is far higher than that of any standard bulbs. It's also why property owners tend to give these a miss. However, the fact is that there are a number of reasons why you should opt for LED lighting, such as:
LED bulbs are 80 percent energy-efficient; that means you save a significant amount of money in the long term
On an average, these bulbs have a lifespan of at least 40,000- 50,000 hours. That means you don't have to worry about replacing them for decades and this makes it a very cost-effective option
LED lights are eco-friendly
You can choose from a variety of glows and hues and it helps you create the kind of ambience you want
The installation is very easy
You don't need any specific fixtures or fittings to fit the bulbs
The light they throw is very cool and this ensures your plants and trees have a much more comfortable atmosphere to live in
Where LED Lighting Can Be Installed
Most property owners don't have much clarity about where they can use LED lighting and which outdoor fixtures they would be ideal for. LED garden lighting can be used in a number of ways:
Lighting of exterior walls
Features such as entryways, pillars, veneers and natural stone elements can be lit with these bulbs
They are perfect for deck and patio installations where you need a sufficient amount of lighting for all those BBQ parties you throw
Garden steps, pathways, driveways and walkways are the other places where these energy-efficient bulbs can be used
They are also perfect for lighting outdoor kitchen spaces and for underwater or spotlighting of the water features you have on your property. Choose a good outdoor lighting contractor like Lunar FX to provide you the kind of solutions you want at a LED lighting cost that fits right into your budget.
"MORE ARTICLES"
Landscape Lighting
Lighting Design
Lighting Installation
Low Voltage Lighting
Outdoor Lighting
We Provide Services to the Dallas/Fort Worth Metroplex, TX area: