Services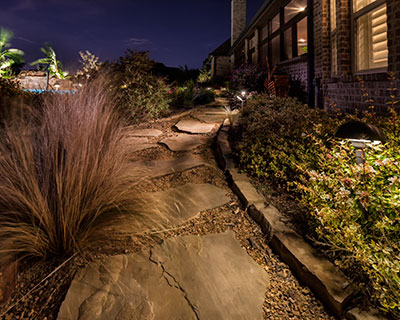 Landscape Lighting Services
We offer comprehensive outdoor and landscape lighting solutions to homeowners in Plano, Frisco, McKinney, Allen, Greater Collin County, Dallas, Fort Worth, Southlake and Grapevine to name a few.
Night Lighting
Installing night lighting is far more than getting a few fixtures and fancy lighting features fitted in the outdoor spaces of the property. The job involves creating the right designs and plans and choosing fixtures that will complement the appeal and aesthetic of the different elements in your landscape. Our designers ensure that they have a clear understanding of your ideas and requirements before creating any night lighting plans. The right kind of night lights and fixtures add to the curb appeal of your property and showcase its best features, while masking ones that you do not want to highlight. Read More About Night Lighting >>
Landscape Lighting
We believe that regardless of how stunning a landscape is, it needs the right kind of lighting fixtures to showcase all the features well. We make sure that all the lighting fixtures and fittings are chosen with care and that high-quality products are used in the installation. This attention to detail goes a long way in ensuring that the landscape lighting effects on your property are stunning and unique. The right kind of high-quality lighting improves the safety aspect of your property and acts as a deterrent for trespassers and other unsavory elements. It's one of the best ways to improve the usability of your yard areas. Read More About Landscape Lighting >>
Landscape Lighting Design
Exterior lighting is one of the most important improvements homeowners can make to enhance the beauty of their home while adding additional safety and security. Our designers create nightscapes that enhance the natural beauty of your garden and highlight the beauty of your home. We can add elegance and definition to your home, highlighting the architectural features and ensuring that your house will always stand out after sunset. Read More About Landscape Lighting Design >>
Landscape Lighting Installation
Let us draw attention to your favorite tree, guide guests through your garden, create warm ambiance around your pool or brighten up your deck for your next party. Whether it's for entertaining, relaxation or safety, extend the enjoyment of your landscape well into the evening with a custom designed and professionally installed lovely nightscape scheme. Read More About Landscape Lighting Installations >>
Landscape Lighting Maintenance
Our professional teams of landscape and outdoor lighting contractors will also come out to your property to maintain your exterior lighting and ensure they are all running efficiently. We can also update your existing outdoor lighting fixtures to ensure you have the most environmentally friendly fittings on the market! Read More About Landscape Lighting Maintenance >>
Low Voltage Landscape Lighting
Low voltage, energy efficient, exterior lighting is all we do at Lunar FX Lighting. Using only high quality, long lasting LED lighting for Residential Homes and Commercial Clients, we are confident we can custom design an amazing transformation of your property! Read More About Low Voltage Landscape Lighting >>
Focused on quality materials and custom installation, we make sure that you are completely satisfied!
We Provide Services to the Dallas/Fort Worth Metroplex, TX area: