Lighting Installation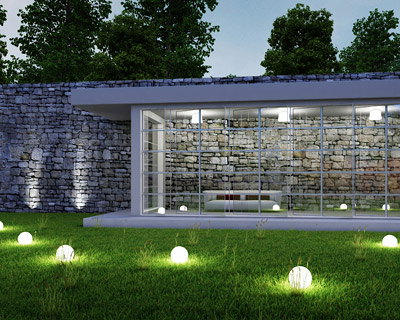 The lights that you install on the outdoor areas of your property, lend it a unique look; however, these features have to be planned well and just placing a few floodlights or lamp posts won't do the trick. Outdoor lighting designers are knowledgeable and skilled and very creative too. They take various factors into account and design lighting installation plans that will enhance the look and appeal of their client's gardens and yards.
Lunar FX Lighting provides excellent landscape lighting installation services to customers across Dallas, Richardson, Plano, Allen, Prosper and Lewisville, as well as Murphy, Southlake, Colleyville and Fort Worth. Outdoor lighting installation is a very specialized job and it's important that you hire professionals that have experience in this space. In most instances, landscape lighting companies provide end-to-end solutions such as consultation, design and installation; this ensures you get comprehensive services in one place.
Yard Lighting Installation - High Quality Work
Just as you want the company you hire for the job, to be creative and provide some good lighting themes, you also want to be assured that they will use high grade materials and workmanship and provide guarantees for their work. When you choose your landscape lighting installers with care, you are assured that:
The personnel will be licensed, certified, insured and well trained
They will use energy-efficient, low voltage lighting fixtures
The right combination of fixtures will be used to ensure that all the areas are well lit
Follow safety measures
Work on a specific lighting installation plan
Provide a workmanship guarantee
Customized solutions
Carry out the work efficiently and within the stipulated time frame
Focus on personalization
Garden Lighting - Various Aspects
The installation of garden lighting is based on how the lighting fixture placement has been planned. In addition the installers will take your specific preferences into account. The various factors they look at are:
The spread of the yard and gardens
Placement of pathways, walkways, driveway and other outdoor features
Lighting for water features
Existence of decorative elements and beautifully-structured trees
Texture and colors of the plantings
Use of energy efficient lighting
Client's likings and preferences
The landscape lighting cost
Choose Your Garden Lighting Contractor With Care
The energy efficiency factor is one of the most important as property owners look for ways and means to lower the expense of landscape lighting. It's why they use low voltage lighting installations and LED bulbs and fixtures. These easily have a life of 40,000- 50,000 hours and that means you get value for money, when you opt for these installations.
Companies like Lunar FX Lighting are highly focused on providing their customers with the kind of solutions that match their requirements. Expertly installed landscape lighting adds to the overall ambience of your property and improves its curb appeal and value as well. So choose your garden lighting contractor with care and you will find that you will have a stunning looking landscape that you will love to use and entertain friends in.
"MORE ARTICLES"
Landscape Lighting
Lighting Design
Low Voltage Lighting
Outdoor LED Lighting
Outdoor Lighting
We Provide Services to the Dallas/Fort Worth Metroplex, TX area: