Landscape Lighting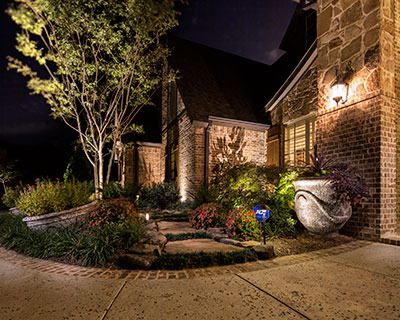 Outdoor lighting is a basic part of any landscaping. However very few property owners pay special attention to it; they don't make any special effort to get anything more than a few floodlights installed on their property. However, lighting is much more than that and it takes training, knowledge and creativity to know how a landscape should be illuminated.
Lunar FX Lighting provides excellent landscape lighting services to customers across Dallas, Richardson, Plano, Allen, Prosper and Lewisville, as well as Murphy, Southlake, Colleyville and Fort Worth. At times, this lighting job could be part of the actual landscaping project. But if you feel that your property lacks the right kind of lighting, you can opt for an exterior lighting upgrade, at any time.
So Why Exactly Is This Lighting So Important?
Having a well-lit property adds to the safety factor and it deters unsavory elements from entering your property
Beautifully illuminated outdoor spaces add to the curb appeal of the space
When you have well-lit gardens and yards, you are more encouraged to use them
It's a pleasure to relax and entertain in thoughtfully lit outdoor areas
The yard and garden areas become much safer for your kids and pets to play in
Adds to the value of your property
As you can see, there are a number of benefits to getting professionals to plan and install outdoor lighting for you.
Outdoor Lighting - Different Spaces That Can Be Lit
The different types of areas they will help illuminate are:
Driveways & Walkways - Poorly lit driveways or paths can be very risky. These spaces have to be lit well as it's important that people see where they are walking or driving.


Garden Steps/Deck Steps - It's important to have some sort of lighting for steps that lead into another part of the garden or yard. The lighting could be recessed in the walls on the side, at the step level.


Trees and Well-Formed Boulders - Many properties have beautifully structured trees & boulders and adding a certain amount of lighting effects to these, is a great way to add drama to the landscaping.


Decks and Patios - These spaces are the relaxation zones on your property. And if you want to be able to use them optimally, even after dark, it's important that they be illuminated well. You can have energy-efficient LED lighting in the colors and hues you want and will add dimmers too; that helps you control the effect in the space.


Water Features - Water features like ponds, fountains and waterfalls offer great opportunities to create a stunning effect on your property. You can train lights on them or use underwater lighting to create the effect you want.
The professionals you hire for the job will provide you with a detailed exterior lighting plan, based on the features that exist on your property, as well as your personal preferences. Today, expert landscape lighting experts like Lunar FX Lighting use LED and other low voltage lighting solutions, to ensure that their clients get value for money and that they are able to keep their energy bills under control.
"MORE ARTICLES"
Lighting Design
Lighting Installation
Low Voltage Lighting
Outdoor LED Lighting
Outdoor Lighting
We Provide Services to the Dallas/Fort Worth Metroplex, TX area: