Night Lighting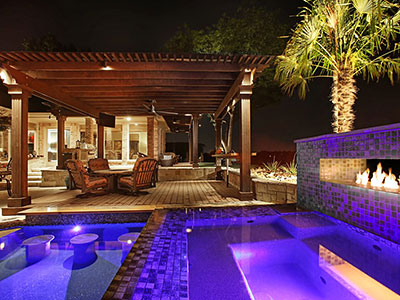 Regardless of how well-designed your landscape is, it will be complete and usable only when you get the right kind of night lighting installed. You can use these spaces comfortably and safely after dark if you get good quality landscape lights fitted in strategic locations in the yard. The best way to make sure that there is adequate illumination in the outdoor spaces and that all the features are showcased beautifully is to opt for custom night lighting.
We at Lunar FX Lighting believe that the right lighting fixture choices and placement can go a long way in creating stunning effects on your property after dark. You would be able to relax comfortably in these areas and entertain friends there too. We provide excellent night lighting services to customers across Plano, Frisco, as well as Richardson, Dallas, McKinney.
Custom Night Lighting Solutions
On our team are skilled and creative designers that work closely with you to make sure that they understand your vision. If you have any inspiration images or lighting ideas, we can incorporate those concepts and themes in the plans we provide. When it comes to night lighting, customization is key to creating superb effects in the outdoor spaces. Every landscape is different, and that also means you need tailored services.
We are creative in our approach and on-trend with our knowledge and awareness of lighting styles; our clients always get the best services at all times. We provide detailed lighting plans and designs that give you a clear idea of what your landscape will look like once all the installations are in place.
Range of Outdoor Light Fixtures
Our skilled lighting designers make sure that the lighting design plans incorporate a variety of fixtures and fittings, to enhance the look of different areas and features in your yard. We can highlight and accentuate installations such as:
Boundary walls and retaining walls
Pathways, walkways, and driveways
Garden steps
Terraced landscapes
Patios and decks
Outdoor kitchens
Flower beds and planters
Uniquely-shaped trees and shrubs
Rockeries
Water features
Fire feature zones
Custom stonework
Other
Garden Lighting Techniques
Correctly illuminated outdoor spaces create a beautiful backdrop for any structure that stands on them. They increase the curb appeal and value of your property. We use a variety of techniques to achieve the effect you want, such as:
Downlighting
Up-lighting
Spotlighting
Accent lighting
Grazing
Floodlighting
Cross-lighting and
Path Lighting
Recessed lighting
Washing and shadowing
Other
Cost-Effective Outdoor Lighting Services
When you hire us for any night lighting project, we also focus on installing energy-efficient lights in the landscape. We recommend the use of outdoor LED outdoor lights and fixtures. These provide adequate illumination while offering 80% energy-efficiency. LED bulbs also emit a cool light, and there is no heat-related damage your plants and shrubs.
We use outdoor grade materials in the work and ensure that the garden lighting installation is completed safely to the highest industry standards. For any more details about our night lighting services, please contact Lunar FX Lighting at 469-340-9535.
You also have the option to send us your queries and project details via this
Online Form
. One of our team members will call you shortly to get your project started.
We Provide Services to the Dallas/Fort Worth Metroplex, TX area: