Low Voltage Landscape Lighting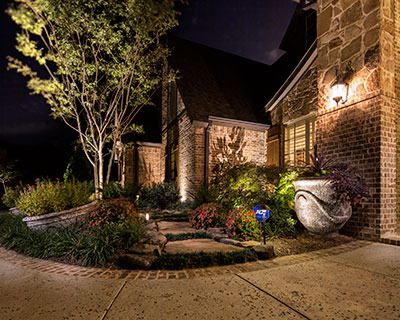 Lights can be used to creatively enhance the beauty of your home. The right placement can highlight good features of your property and hide any unpleasant sights or installations. For example, low voltage backyard lighting draws attention to a beautiful tree on your property while drawing attention away from a heating unit or other such installation beside it. Landscapers have used light to highlight and conceal for several years now.
At Lunar FX Lighting, we've installed low voltage lighting in several residences in Plano, Dallas, Fort Worth, Irving, Arlington, and Grapevine. We're a well-established and trusted company that works hard to deliver the right results. Our clients know what to expect when they hire us, which is why they call us for installation, design, and maintenance.
We have also worked on several projects in Allen, Garland, Denton, Frisco, and Carrollton. Our clients here have given us stellar feedback and have recommended our services to their acquaintances, business associates, and families.
What is Low Voltage Landscape Lighting?
As the name suggests, this lighting system has low voltage. The lights are soft and less intense in comparison to flood lights that many people install on their landscapes. The muted light helps to illuminate specific areas of the landscape and came give it a natural, graceful look.
Our clients often worry that the low voltage lights would be too dim for their landscape. Fortunately, that's not the case. These lights are bright enough to illuminate walkways, stairs, and other such obstacles. You can move around your backyard or garden easily, even if you only use low voltage lighting. With low voltage outdoor lighting, it's all about placement and location of the lights.
What are the Components of Low Voltage Lights?
This lighting system will save you money in energy bills and still illuminate your home beautifully. No matter how big your landscape or garden is, strategic lighting with these lights can keep the area subtly well-lit. This system has three basic components to it and they are:
Transformer – The low voltage transformer is the power supply for this lighting system. It will regulate the power it receives and ensure that it's not overloaded. We can place the transformer close to your home or inside it, depending on your preference. We have skilled electricians who can get wiring through the wall wherever required.


Fixtures – The fixtures provide the light. There are different kinds of fixtures available in the market. Some have built-in lights while others have replaceable bulbs. You can install halogen or LED lights in your backyard.


Wire – We are very careful when we choose the wire as they carry power from the transformers to the fixtures. If we don't choose good quality wires, they can damage the fixtures and compromise the entire LED outdoor lighting system.
If you want a good quality low voltage landscape lighting installations, get in touch with us today! You can call us at Lunar FX Lighting if you have any questions or comments. Our phone number is 469-340-9535. We'll be happy to help you in any way possible.
We Provide Services to the Dallas/Fort Worth Metroplex, TX area: