Lighting Design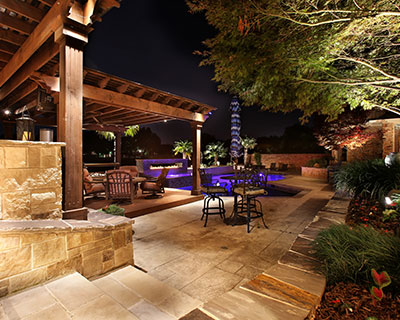 When it comes to landscaping, property owners take great care to get these spaces designed by experts. These professionals help with designing and installing features such as softscaping, hardscaping as well as water features and other outdoor features. While all these aspects are important, it's probably even more important to ensure that all these spaces and features are well lit.
That's the only way to ensure that you are able to see, use and enjoy these elements after dark. Lunar FX Lighting provides excellent garden lighting design services to customers across Dallas, Richardson, Plano, Allen, Prosper and Lewisville, as well as Murphy, Southlake, Colleyville and Fort Worth.
Landscape lighting is much more than just positioning a few lights at different places in the garden and yard. If you want your landscape to looks stunning even after dark, you would have to hire the services of outdoor lighting professionals. They have the knowledge and expertise to take all the different aspects of your landscaping into account and then provide you detailed garden and yard lighting plans.
Outdoor Lighting Plans - The Aspects to Consider
They will focus on lighting all the different parts of these areas in the best possible way. When they are designing the lighting concepts, they take various aspects into account, such as:
The size and spread of the outdoor spaces
Features that exist there
Presence of outdoor features like patios, decks, outdoor kitchens etc
Water feature lighting
Light fixtures for retaining walls, boundary walls and garden lights
Step lighting
Pathway, driveway and walkway lighting
Entranceway and porch lighting
Directional lighting
Specialty lighting
Mood lighting
Floodlighting for certain decorative features on your property
Other
In short, the outdoor lighting professionals will ensure that they keep all these things in view while they are creating the garden lighting design concepts. The other important thing they will keep in mind is the energy-efficiency factor. This is extremely important, as all this outdoor lighting can guzzle a lot of power.
The outdoor lighting designers will incorporate outdoor LED lighting fixtures and other low voltage elements in their design. This ensures that the lighting won't burn a hole in your pocket.
Different Outdoor Lighting Effects
The designers ensure that they use different types of lighting like recessed, directional, floodlighting, mood lighting and accent lighting to make the outdoor spaces look stunning and attractive. The focus will be on making the gardens and yards more usable after dark; but the priority also is to provide customers value for money.
When you hire the services of an experienced and expert company like Lunar FX Lighting for the job, you are assured that high quality materials and workmanship will be used to achieve the best effect. A licensed and insured company will also provide guarantees for their work and you can also opt for outdoor lighting maintenance solutions that these companies offer.
"MORE ARTICLES"
Landscape Lighting
Lighting Installation
Low Voltage Lighting
Outdoor LED Lighting
Outdoor Lighting
We Provide Services to the Dallas/Fort Worth Metroplex, TX area: