Low Voltage Lighting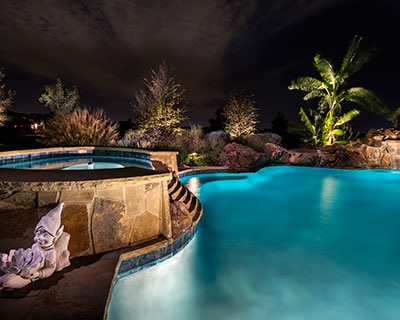 The garden and yard areas on your property, add to its ambience and value. Many people look for homes that have vast landscaped areas. However, that's not enough. They need to ensure that these spaces are designed and installed well, if they want to be able to use them in a more functional manner. This is why they opt for installations like outdoor kitchens, patios, decks as well as poolscapes.
However, they would be able to use these areas optimally only if they get good outdoor lighting installations. Lunar FX Lighting provides excellent landscape low voltage lighting services to customers across Dallas, Richardson, Plano, Allen, Prosper and Lewisville, as well as Murphy, Southlake, Colleyville and Fort Worth.
So what is the relevance of low voltage lighting solutions, and why do people opt for them? As mentioned earlier, outdoor lighting is an essential part of any landscaping project. But all those lighting fixtures tend to use a lot of power and increase your energy bills. The one way to ensure that you are able to keep a handle on your energy bills is to opt for low voltage solutions and LED bulb fittings.
Most people are under the impression that low voltage lighting doesn't lend that much light and that the spaces look dull with the poor lighting. But the fact is that there are a lot of energy-efficient lighting solutions that provide a sufficient amount of light without pulling in too much of power; and in turn, that helps you save money on your power bills. In simple words, low voltage outdoor lighting is the way you can have the kind of garden lighting you want, without worrying about whether it will burn a hole in your pocket.
Low Voltage Lighting - Numerous Benefits
When you use LED bulbs, you get energy-efficient lighting; and there is no compromise on the brightness aspect. These bulbs are at least 80 percent more energy-efficient than standard bulbs.
They consume far less energy and you save money on your power bills.
These lights also throw a very cool light and there is minimal heat distribution, which makes it perfect for landscaping purposes; the environment stays much cooler, which makes it much better for the plants and trees and it keeps the air cooler for you too.
LED lamps are very long lasting and can last for up to 50,000 hours. This means you don't have to worry about replacement and maintenance costs when you opt for these.
These bulbs all operate on a specific voltage and transformers are connected to them; you can change the bulbs without having to switch off the power supply as there is no danger of a shock.
Other components such as switches and relays, low voltage cables, direct burial, low voltage transformers, photocells, motion sensors, dimmers, and optional timers are also used to add to the energy-efficiency of the lights.
While it's important that good quality materials be used in the work, you also have to ensure that you have a good company like Lunar FX Lighting handling the job. This will ensure the longevity of the installation.
"MORE ARTICLES"
Landscape Lighting
Lighting Design
Lighting Installation
Outdoor LED Lighting
Outdoor Lighting
We Provide Services to the Dallas/Fort Worth Metroplex, TX area: