Landscape Lighting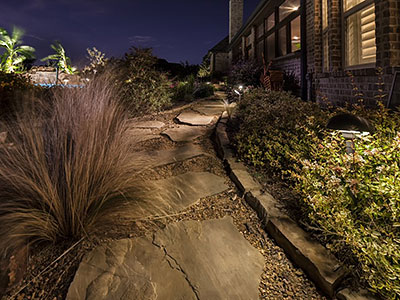 Although outdoor lighting is an essential part of the landscaping design, very few property owners give significance to these features. In most instances, all they do is install a few floodlights around the area. However, installing lighting around the landscape is a complex process that involves detailed knowledge, training, and creativity. The expert technicians should be adept at knowing precisely how a landscape should be illuminated.
Lunar FX Lighting provides excellent landscape lighting services to customers across Plano, Frisco, as well as Richardson, Dallas, McKinney. These lighting tasks can be a part of a landscaping project as well. If you feel that your landscape lacks sufficient lighting, you can always choose an exterior lighting upgrade.
The Importance of Outdoor Lighting
One of the most important reasons for having outdoor lighting is that it keeps your property lit, and deters thieves and other criminals from entering.
Outdoor spaces that are well-illuminated add to the curb appeal of your property as well.
You even get encouraged to use these outdoor areas when they're well-lit.
It creates a pleasant atmosphere to relax in.
Significantly increases the resale value of your property.
As you can tell, there are several advantages of getting outdoor lighting planned and installed by professionals on your property.
The Different Areas That Can Benefit From Exterior Lighting
Here are a few areas on your property that can benefit from having the right kind of lighting:
Walkways, Pathways and Driveways – Driveways or walkways that aren't well-lit are incredibly risky. It is crucial to ensure that these spaces are appropriately illuminated as people have to see where they're walking or driving.


Trees And Decorative Boulders – Several properties have beautiful trees and exquisite boulders. Adding lighting effects to these areas can dramatically increase the overall grandeur of these spaces.


Water Features – Various water features, such as ponds, waterfalls, and fountains, allow you to create amazing effects. You can either train lights on them or even install lighting underwater.


Garden Stairs – Having lighting installed for areas that lead to a different part of your garden or yard is crucial. You can keep the area well-illuminated by having lighting installed on the walls at the step level.


Decks And Patios – These spaces serve as great areas to relax. If you wish to use them after dark, they must be adequately lit. Installing energy-efficient colored LED lights is an excellent idea for such spaces.


Cost-Effective Garden Lighting
We will provide you with a detailed plan for your exterior lighting requirements. This plan will be based on the features that exist on your property. We at Lunar FX Lighting include LED and low voltage lighting solutions in our projects. These inclusions ensure that customers get a bang for their buck, and can control their energy usage.
For any more details about our landscape lighting services, please contact Lunar FX Lighting at 469-340-9535. You also have the option to send us your queries and project details via this
Online Form
. One of our team members will call you shortly to get your project started.
We Provide Services to the Dallas/Fort Worth Metroplex, TX area: