Outdoor Lighting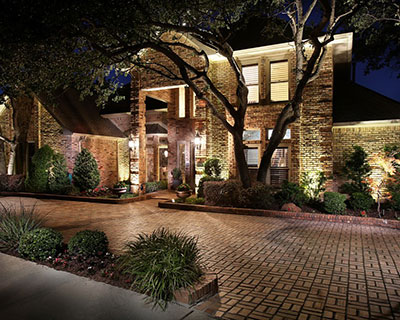 As a property owner who wants to make their outdoor spaces look unique, you focus on getting these spaces designed from experts. This ensures that all the spaces will be planned well and that all the features will be used in the right measure. You choose all your plants and trees with care and ensure that the right decorative features are chosen. You may also get a custom designed fireplace or fire pit installed and get specialized paving and veneer installations done.
While you are able to see and enjoy all these in the daytime, the only way you would be able to enjoy these after dark, is to opt for high grade exterior lighting installations. Lunar FX Lighting provides excellent landscape lighting services to customers across Dallas, Richardson, Plano, Allen, Prosper and Lewisville, as well as Murphy, Southlake, Colleyville and Fort Worth.
When the outdoor spaces on your property are properly illuminated, it encourages you to use these spaces, more than you generally would. But that is possible only if you plan the garden lighting with as much care as you would plan the design and layout of the indoor spaces on your property.
Some Facts About Garden Lighting
A good and well established outdoor lighting contractor will provide you with custom solutions and this ensures your property looks exactly as beautiful and unique as you want it to.
Outdoor lighting is much more than just installing some paver lights or lamp posts along the driveway. It involves careful planning and detailing and this is a job that only specialized outdoor lighting installers will be able to handle for you.
A good company will work very closely with you to understand what kind of effect you want to create on your property. hey will take into account the existing features on your property as well as things like the type of plantings you have
Decorative features you want to light
The water features that have to be spotlighted, or if you want some underwater lighting, that will be taken into account too
Garden lights, step lights, lighting for retaining walls
Recessed lights in features like outdoor kitchens etc
Energy-Efficient Exterior Lights
When you plan your yard lighting with care, it creates a very stunning look in the outdoor areas of your home. LED bulbs and other low voltage lighting components like switches and relays, low voltage cables, low voltage transformers, photocells, motion sensors, dimmers, and optional timers are also used to add to the energy-efficiency of the installations.
You will find that when you have well lit outdoor spaces, it adds to the safety aspect of these spaces and you are encouraged to use them more often. All these elements and fixtures are low maintenance and you also end up saving a significant amount of money on these installations. Choose a good outdoor lighting contractor like Lunar FX to provide you the kind of exterior lighting solutions you want. This will ensure the outdoor spaces on your property look stunning and last for a very long time.
"MORE ARTICLES"
Landscape Lighting
Lighting Design
Lighting Installation
Low Voltage Lighting
Outdoor LED Lighting
We Provide Services to the Dallas/Fort Worth Metroplex, TX area: